KubeSphere DevOps: A Powerful CI/CD Platform Built on Top of Kubernetes for DevOps-oriented Teams.
KubeSphere DevOps integrates popular CI/CD tools, provides CI/CD pipelines based on Jenkins, offers automation toolkits including Binary-to-Image (B2I) and Source-to-Image (S2I), and boosts continuous delivery across Kubernetes clusters.
With the container orchestration capability of Kubernetes, KubeSphere DevOps scales Jenkins Agents dynamically, improves CI/CD workflow efficiency, and helps organizations accelerate the time to market for products.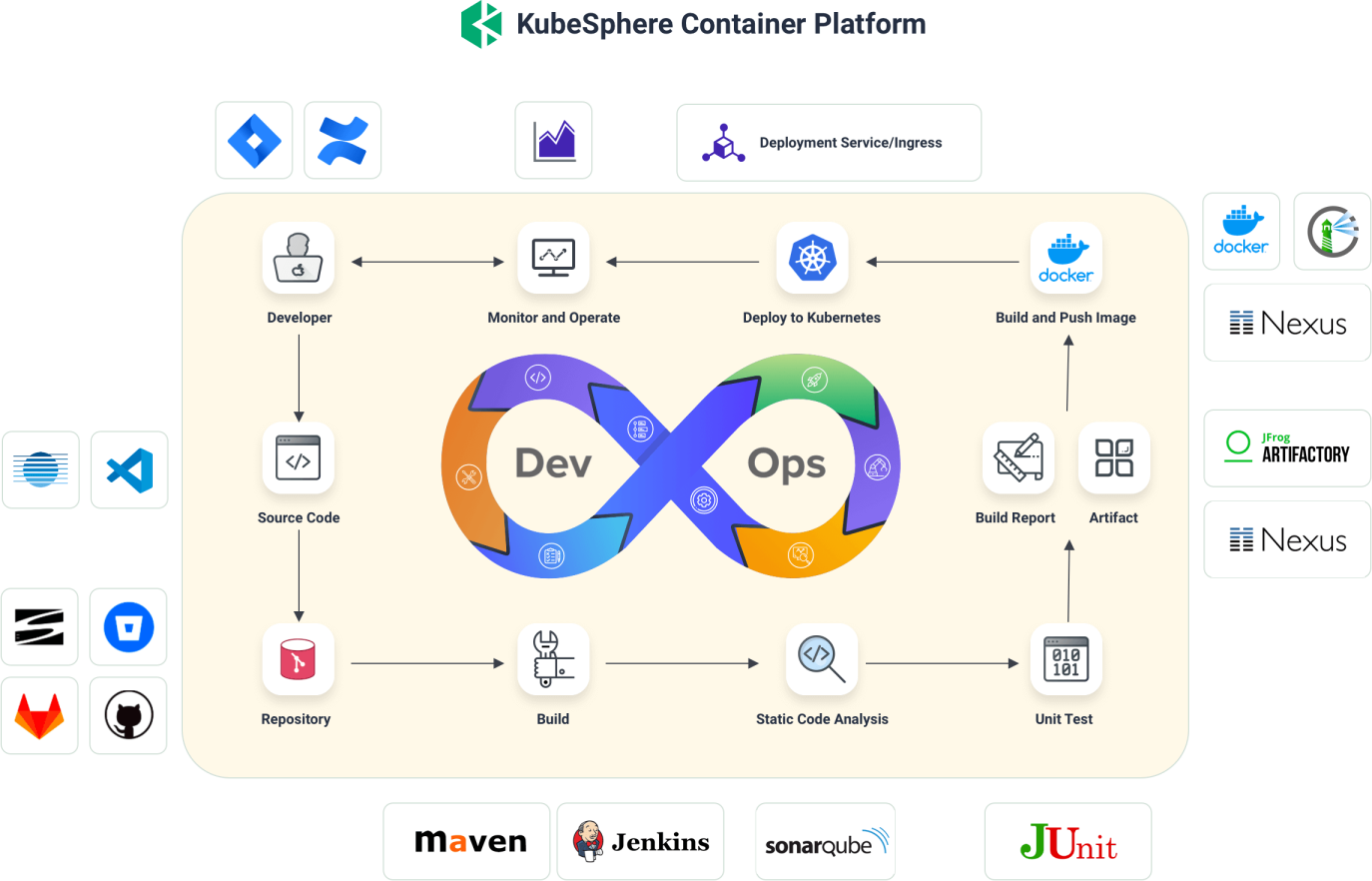 Run CI/CD Pipelines in Kubernetes Clusters to Implement Automated Code Checkout, Testing, Code Analysis, Building, Deploying and Releasing
Out-of-the-Box CI/CD Pipelines

Easy integration with SCM

including GitLab/GitHub/BitBucket/SVN to simplify continuous integration

Graphical editing panels

designed to visualize and simplify CI/CD pipeline creation without writing any Jenkinsfile

Easy SonarQube Integration

to implement source code quality analysis and view results on the KubeSphere console

Dependency cache available

for tools like Maven running in Kubernetes Pods to accelerate image building and workloads deployment across Kubernetes Clusters

Built-in Automation Toolkits for DevOps with Kubernetes

Source-to-Image

builds reproducible container images from source code without writing any Dockerfile and deploys workloads to Kubernetes clusters

Binary-to-Image

builds your artifacts into runnable images and deploys workloads to Kubernetes clusters

Automating image building and pushing

to any registry and achieving continuous deployment to Kubernetes clusters

Excellent resiliency and recoverability

as you can copy pipelines and run them concurrently as well as rebuild and rerun S2I/B2I whenever a patch is needed

Use Jenkins Pipelines to Implement DevOps on Top of Kubernetes

Kubernetes combined with Git

to facilitate continuous integration with code repositories and boost continuous delivery of cloud-native applications

Efficient DevOps teamwork

through the KubeSphere multi-tenant system on the basis of Kubernetes RBAC to achieve better access control in CI/CD workflows

Powerful DevOps observability

with dynamic logs for S2I/B2I builds and pipelines to help you manage Kubernetes DevOps resources with ease

Auditing, alerting and notifications

available for pipelines to ensure quick identification and resolution of issues throughout CI/CD workflows

Git webhooks for SCM pipelines

to automatically trigger a Jenkins build when new commits are submitted to a branch